FIRENZE SOGNA > per la prima volta in 2LP
MATERIALI SONORI - SPITTLE RECORDS


"Firenze Sogna! (Itinerari Musicali 1976-1983)" . 2LP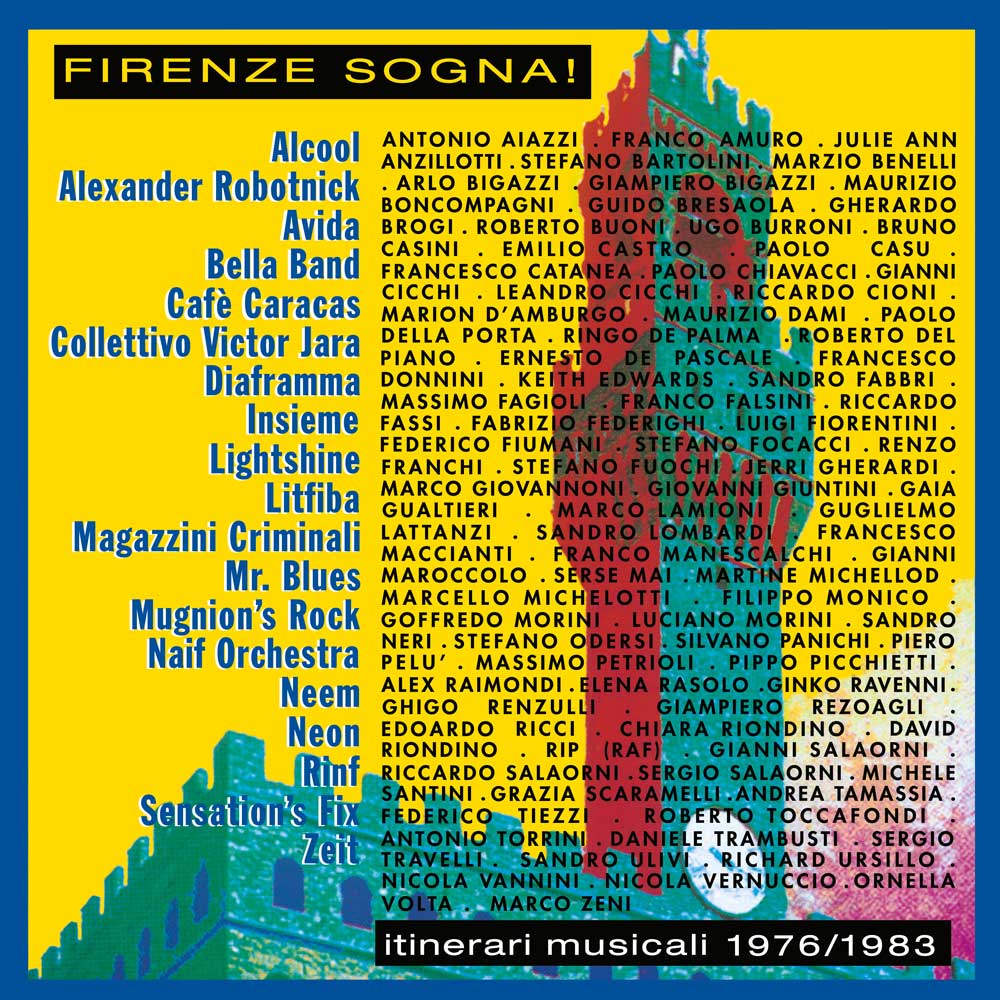 edited by
Ernesto De Pascale. Bruno Casini. Giampiero Bigazzi
PRODUCED BY
MATERIALI SONORI
'Firenze Sogna' is literally a journey of musical itineraries from the legendary Tuscany chief town between the mid-70s and the early eighties, curated by Giampiero Bigazzi, Bruno Casini and Ernesto De Pascale. Influential post-punk act and electronic producers all teamed up with local legends depicting almost 20 years of a constant evolution. It is not simply the Italian way to rock'n'roll, hereby three generations of artists facing the banks of Arno river forged a memorable artistic season. Stalwart ok kosmische psychedelia Sensation's Fix altogether with EBM forerunners Neon, astonishing etno-world travelers Zeit (the Italian answer to late Popol Vuh ?) and electro pioneer Alexander Robotnick, no wave heroes Rinf and rock in opposition alumni Bella Band (Cramps Records). 23 tracks split between two lps, a revelation of sort.
Tracklist:
1 Sensation's Fix -Music Is Painting In The Hair 3:26
2 Insieme - Picchia E Ripicchia 5:00
3 Bella Band – Mattutina 4:45
4 No Artist - Intervista Ad Antonio Aiazzi 0:58
5 Litfiba – Anniversary 4:45
6 Diaframma - Illusione Ottica 3:57
7 No Artist - Intervista A Federico Fiumani 0:58
8 Café Caracas - Tintarella Di Luna 2:15
9 Alcool – Situation 3:18
10 Mugnion's Rock - Deborah 3:19
11 Mr. Blues - Caledonia 5:15
12 No Artist 0:49
13 Lightshine - Let's Get Four Funky Steps 3:37
14 Naif Orchestra - Fratelli Italiani 4:34
15 Rinf - Was Besonders 3:22
16 Alexander Robotnick - Problèmes D'Amour 4:29
17 Neon - Information Of Death 4:53
18 No Artist - Intervista A Maurizio Dami
19 Avida - La Bustina 3:40
20 Collettivo Victor Jara - Pazzum Pazzia 4:08
21 NEEM -L'Italia Che Vola 4:35
22 Magazzini Criminali - Tijuana, Frontiera A Nord-Est 1:46
23 Zeit - Una Danza Infinita 3:09
in loving memory of Ernesto De Pascale
> limited edition
________________________________________________________________
Firenze Sogna 2019.
Un viaggio sonoro negli anni '70 e '80 in una Firenze ricca di fermenti musicali, creativi, giovanili. Firenze sognava in quei decenni, tutti andavano allo Space Electronic oppure al Tenax o al Manila per vedere concerti memorabili. Etichette indipendenti, club, spazi culturali, video bar, collettivi artistici, teatro sperimentale, concerti, radio e fanzine hanno affollato gioiosamente questa città troppo museale e le hanno dato vigore ed energia, facendola diventare un punto di riferimento internazionale, una finestra che si affaccia sul mondo. La prima uscita di questo lavoro nel 1993, ed oggi ristampata in vinile, e tutto questo nuovo percorso, lo dedichiamo a Ernesto De Pascale che abbiamo perso nel 2011. A lui va una grande dedica per la passione, l'amore e il continuo coinvolgimento per la scena musicale fiorentina (e non solo). Ci siamo divertiti, insieme, a ricercare tutte quelle band, gruppi, musicisti, protagonisti di quegli anni cosi elettrici e indimenticabili. Riascoltando questo disco si ha la sensazione incredibile di tutta quella ricchezza culturale e sonora che si trovava in questa città, brani di un'attualità sconcertante come se fossero usciti da pochi mesi dagli studi o alle cantine. Questo disco fa ancora capire come tutta quella generazione sia ancora in pista, sia ancora sulla cresta dell'onda e come si è adattata, trasformata e sintonizzata con i nostri tempi estremamente tecnologici, informatici e molto freddi. E' un movimento che non si fermerà, è un movimento che non ha scadenze. Che passa continuamente energie ai più giovani. Firenze sognava, Firenze sogna, Firenze sognerà!
Bruno Casini - Giampiero Bigazzi, settembre 2019
__________________________________________________________________________
distribution: GOODFELLAS
sales: jacopo@goodfellas.it
+39 0694537253
MATERIALI SONORI
+ 39 0559120363
order@matson.it